Trogir - meet the town with 2300 year lasting tradition
Trogir is a beautiful medieval town situated on the Adriatic coast 30km north of Split. Its medieval core is placed on a small island between the island of Čiovo and the mainland; connected to the mainland by a small stone bridge and with the island of Čiovo by a drawbridge.

Its rich culture is created under the influence of old Greeks, Romans and Venetians who all had a hand in building the town. Trogir with its many palaces, churches, towers, and fortresses in every way deserves to be called 'the Stone Beauty'. The urban and architectural plan of Trogir's old town has kept its basic medieval structural elements of a fortified town. It has the typical composition of streets and squares as well as the representative sacral and secular public facilities. Regardless of the architectural value of some of its specific facilities, Trogir is most of all, remarkably valuable as a whole, with its many messages - artistic, cultural-historical, natural and as such represents one of the most important cultural assets in Croatia, as well as the whole world.
Trogir Today
Today Trogir is a world heritage site and a fantastic place to visit whether you just want to enjoy the charming atmosphere of the old town or you wish to discover more about the history of the place.

There is a variety of fine dining restaurants, bars, cocktail lounges and cafes located in the old town. You can enjoy homemade seafood and meat specialties prepared using traditional recipes. Different types of musical and folklore happenings take place on Trogir's streets and squares. Visit art shows and exhibitions and be a part of art history.
Trogir is also called the 'city-museum'. Due to its uniqueness in the 1997, Trogir's old town centre was put into the UNESCO's list of the world's monumental heritage. From rich cultural and historical offer, we single out:
· The cathedral of St. Lawrence - Open daily from 09:00 till 12:00 and from 16:00 till 19:00
· Civic Museum Trogir - Open daily from 09:00 till 13:00 and from 17:00 till 20:00
· Greek relief of Kairos - kept in the church St. Nicholas which is open every day from 8:00 till 13:00 and from 15:00 till 19:00
· The Kamerlengo tower - Open daily from 09:00 till 20:00
Trogir Area
Placed in the area of mild Mediterranean climate, Trogir with its 2700 sunny hours per year and is a real treasure among other tourist destinations in Croatia. Average air temperature throughout the year is above 15°C, reaching more than 30°C in summer. Sea temperature is well above 25°C during summer period. The area is predominantly covered with Mediterranean vegetation, pine trees, vineyards, fig-trees, olive-trees, and aromatic herbs.
Trogir archipelago is abundant with islands, islets, cliffs, bays and beaches. It offers many natural harbors and is a real heaven for nautical tourism. This is a unique area for trips and cruises with motor boats, speedboats, or sailboats as well as other types of fun at sea. You can also enjoy the untouched underwater world
Everywhere you go in Trogir area, you will meet very friendly and charming people, a smooth combination of Southern personality and warm hospitality, thanks to the town's lasting tourist tradition.
The cathedral of St. Lawrence
Open daily from 09:00 till 12:00 and from 16:00 till 19:00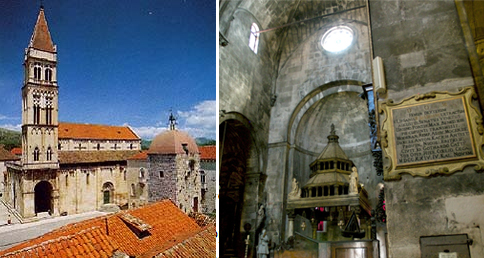 Trogir's Cathedral of St Lawrence is considered to be one of the finest architectural achievements in all of Croatia. Building started in 1193 and continued for many years and finished around 1500. One of the most notable features of the church is monumental Romanesque door carved around 1240 by master stone-mason Radovan. Complementing the door are two stone lions. The Cathedral of St Lawrence features a 14th century bell tower 47m / 154ft high. Visitors can climb up the tower, usually before noon, for a small fee.
Civic Museum Trogir
Open daily from 09:00 till 13:00 and from 17:00 till 20:00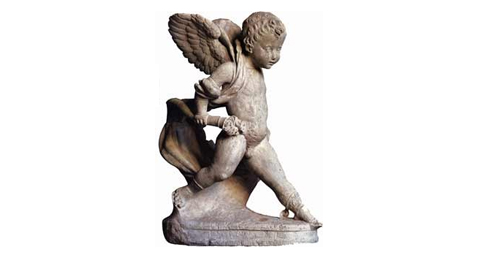 Take a voyage through Trogir's rich history. The museum is located across from the Land Gate in the northwest corner of Trogir. On display at the Trogir Civic Museum are a variety of Greek and Roman artifacts, books, documents, drawings, costumes and antique clothing.
Greek relief of Kairos
From 3rd century B.C. (the God of a happy moment) is kept in the church St. Nicholas which is open for visitors every day from 8:00 till 13:00 and from 15:00 till 19:00.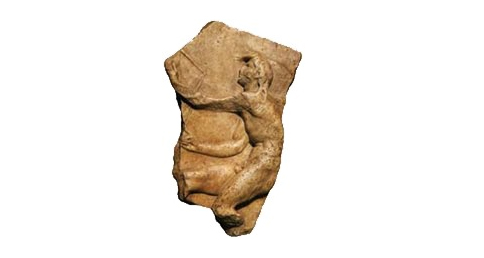 God Kairos is one of the well known attractions city of Trogir. Here is a legend about this" God of happy moment": The figure of the naked young man personifies Kairos - according to ancient Greek's belief the God of the "fleeting moment", a favorable opportunity opposing the fate of man. This favorable moment must be grasped; otherwise the moment flies away and cannot be caught any more...
The Kamerlengo tower
Open daily from 09:00 till 20:00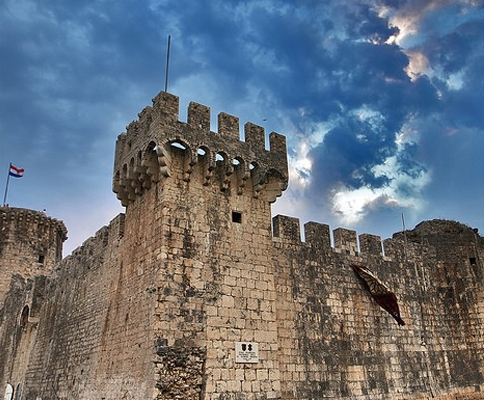 The Kamerlengo Castle dates to the early part of the 15th Century and was built by the Venetians. It was once the Venetian governor's palace. The castle looks out to the sea, with high walls that connect three towers. The Kamerlengo Castle is today used to host outdoor performances during the summer in its courtyard.